1. Your name: Nicole (aka, Nikki & Pookie, via the boyfriend)
2. Their name: James (aka, Squish, Archie & Jimmy Jim Jim, via me. *grins*)
3.Your ages: I'm 26 (27 on 7/18) and he's 29 (30 on 12/3)
4. Your location: Irvington, NJ
5. Their location: Stormville, NY
6. How long have you been together? Our year anniversary is 8/29 :D
7. What is the status of your relationship? Pretty serious I'd say :)
8. Where did you find out about this community? Through the Random LJ Picture link :)

And now onto the more detailed questions.....

9.How did you meet?
We met, while I was in a relationship about 2 years ago. He was my friend's friend. Actually, Jim used to be his employee at a Radio Shack. Finally our paths crossed. I thought he was nice. I tried to set him up with a friend of mine a few months after I got to know him.

10. Where do you see yourselves as a couple in five years? What are your plans for the future?
Married. Living GOD knows where. He's a molecular biologist, and his contract just came up with his one job, so he's just working at Radio Shack now.

11. When did you know you loved them?
This sounds SO sillie in retrospect. We're ren faire geeks. One day after faire, we went our separate ways (he lives north, and I south) and I was just kind of smiling to myself and I just said "Archie is SO great! Man I love him. *GAAASP* I LOVE HIM!" *blush* So the next time I saw him, I gave him a piece of paper, written in caligraphy that said "I love you.. just thought you should know". He's cheesie. He appreciated it :D

12.What is the sweetest thing they have ever said to you?
"Hunnie. Shh. Don't WORRY about it. I'll do it." AND THEN HE DOES IT!!!! I've been in some pretty dismal relationships and there were always broken promises. He *never* breaks a promise.

13. What is the most romantic thing they have ever done for you?
Okay. There are like sooo many things I could list. But I'll go with the one where I was leaving for a 2 week trip to Portugal. I had to go to the grocery store, and we were there for about 10 minutes and he goes "Oh! I left something in the car, I'll be right back" and I was like *shrug* "Okay". Like, forever later he finds me and I was like "WHOA! I was worried!"

So we finish shopping, and I go out to the car. He put a dozen yellow roses on the passenger seat. With a POUND of Belgium chocolate (I was pmsing) under them. I got all teary.

14. What was the most fun/exciting/memorable thing you've ever done together?
We went on a cruise together, to Miami, Cozumel, Grand Cayman, Key West, and Costa Maya. It was AMAZING! I had the best time with him.

15. What would you change about your relationship?
I wished we lived together and had a nicer living space. But, that's about it. He's my perfect mate.

16. What's your favorite thing about them? Least favorite?
Most - He just LISTENS. He understands. He pays attention. It's amazing.
Least - He drinks too much Pepsi. It seems silly, but I wish he'd drink some more water.

17. How do your parents feel about your relationship?
Oh goodness, my mother adores him to pieces.

18. If money were no object, what would you buy your SO? Why?
A HUGE plasma screen TV, to go with his surround sound system and all his other electronic toys. He LOVES gadgets.

19. Question of your choice. Tell us something we haven't asked.
Hmm. How about "Does his family approve of me?" The answer is absolutely. They yell at me when I don't come up to visit enough.. hehehe. I never had a little sister, and his little sister is quickly becoming mine. She's great :)

20. And so we can get an idea about you and your views of relationships, how do you feel about....

- long distance relationships
Hey, it takes a LOT of love and faith to make them work, but it's possible. My cousin was in a 7 year long distance relationship with her boyfriend, while he went to school in North Carolina, and after he was done, they got married, bought a house, planning for bebes all while he goes to medical school. If they can do it, it can be done!

- same sex relationships
I'm bisexual, so I'm pretty much all for them. Some same sex relationships are soo much healthier than hetero relationships. It's all about love and respect :)

- interracial relationships
One of my first.. well, he wasn't a boyfriend. I don't know what to call him.. heh.. Well, he was very black and I'm very white. Again, it's all about love and respect! heheh

- meeting online
HONESTY!! Honesty is key. I know lots of my friends who have met their spouses online. Yay!

21. And last of all, sticking with the theme of this community, when do you love them the most?
When he wakes up in the morning before me, he lets me sleep, but first he kisses me. :) I love that.

Pictures!!! As our friend Kim calls us "The Pookie Squishie Love Circus"

At our friend's wedding (the reason we went on the cruise) in Costa Maya, in pirate garb!



On the cruise, during the Captain's Reception.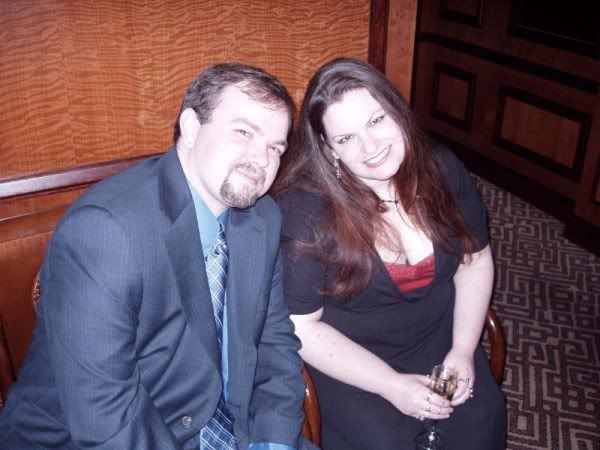 At the Hudson Valley May Faire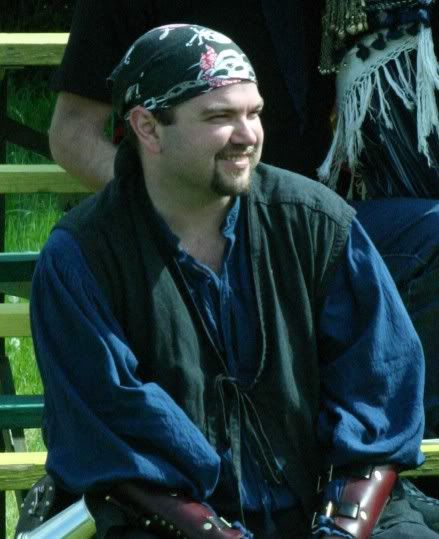 With my cat, Juliet, using him as a pillow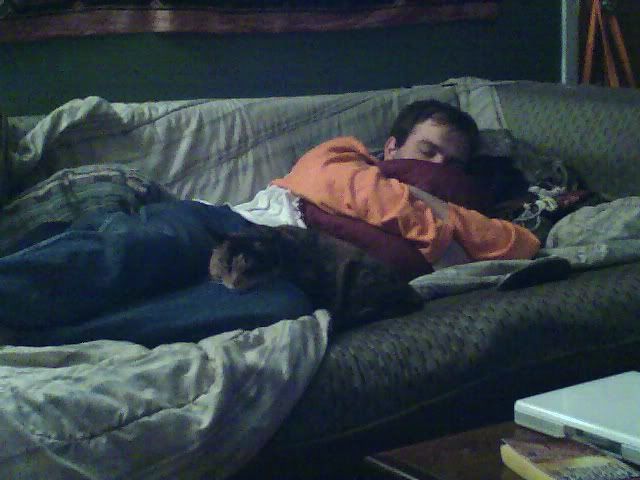 At the Wicked Faire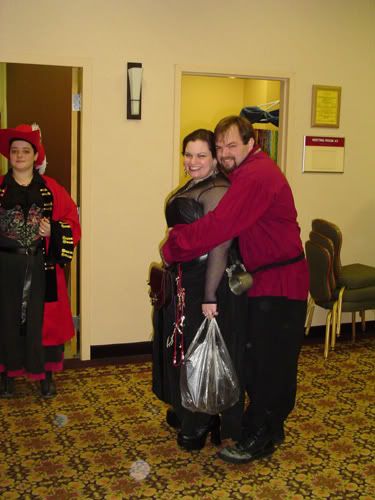 At our friend's house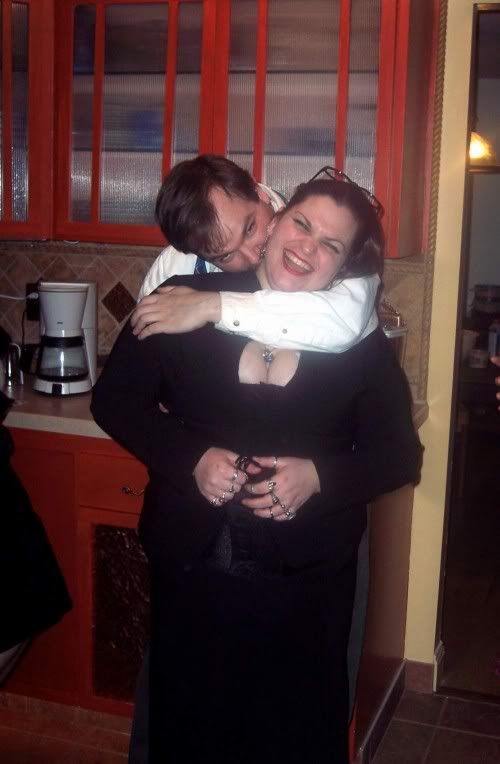 At the New York Ren Faire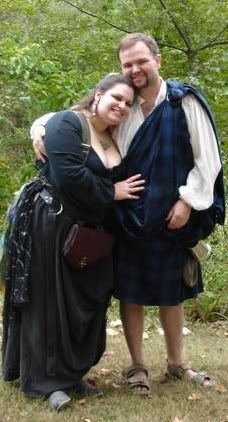 At the Maryland Ren Faire (I TOLD you we are ren faire geeks)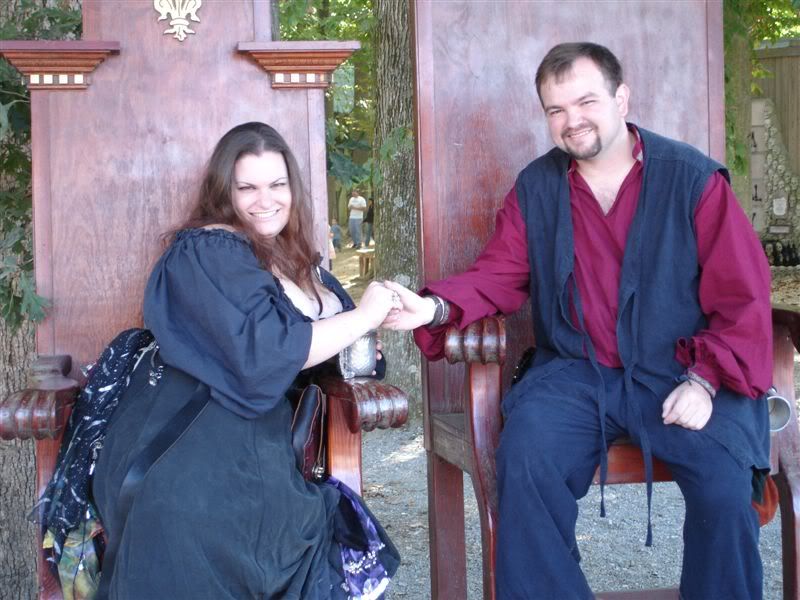 At my best friend's wedding (she also happens to be my ex boyfriend's sister!)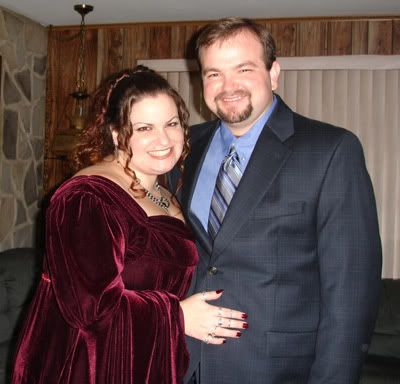 My icon, but bigger :)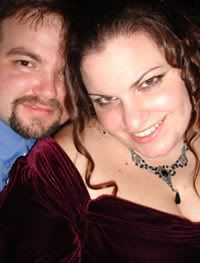 Going down the shore